Sloth Daddy
Right Back at You, Tiger Mother
"Once you start down that road—race to the top, race to nowhere, go, go, go!—it's night near impossible to reverse course."
Chapter:
Education, etc. i.e.
By
Jason Dubow
I am not, at least not exactly, a proponent of laziness. I am, it is true, famous, or perhaps infamous, for my naps: any place, any time. But what if what you call laziness is in fact contemplation, mindfulness, creativity?
In a comment in response to The New York Times Magazine's "6th Floor" shout out to LearnMeProject, a reader posted a link to an article suggesting that dreaming can lead to better learning; and here's more evidence in support of slothfulness: The Big 3 nap!
Sleep, or lack thereof, did play into our decision to home school. For a few years now, SchoolLess has struggled with night terrors. He worries. He gets up to pee. He worries some more. He pees again. He often needs, though less so these days, Skeptic or me to remain awake downstairs until he falls into fretful sleep. It was a year of groggy mornings. And some nights anxiety got the better of him.
SchoolLess was not able, or willing, to express with any specificity or certainty the nature of his torment until one night, frustrated, I pushed for answers with a bit more insistency.
What's wrong? What's bothering you? What are you afraid of?
His answer, "I don't know," he repeated, unaltered, like Bartleby or an Enron executive pleading the fifth, until finally—it was near three in the morning, we'd had our fill of The Honeymooners, SportsCenter, and Ginsu knives—he caved and blurted, "Murder, obviously."
Actions have been taken, home school being one of them, and SchoolLess now seems more at ease in his own skin, increasingly able to keep his demons, what ever caused him to conjure his own demise, at a safe and manageable distance. He is much more in charge of his life, his identity, than he has been in years.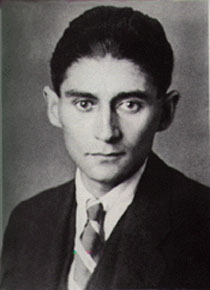 The two of us spent most of this morning not so groggily struggling with our writing. SchoolLess is working on a short story for my fiction class and a 250-word sentence in the style of Kafka's The Metamorphosis, which we just finished reading. Tomorrow he will "translate" this clause-heavy monstrosity into spare, direct Hemingway-ese. And he is working on his next post, something to do with Paris, dreams, and destiny.
I'm on spring break. I have a few tasks to deal with related to taxes, bathroom renovation, a pantry threatening to go bare, and I have to bone up on Muhammad Ali for my "Sports & American Culture" class, but mostly I just want to get a post done. Just do it, my weak and ineffectual inner drill sergeant says, before joining me on the couch for coffee, leftover chocolate bread pudding, and the UConn-Pitt game.
SchoolLess auditioned the other day for a competitive music camp. He did not make the cut, was deemed not ready, too young in years and musicality. He was initially devastated, as was Dave, the jolly, big-hearted, hard-ass, bearer-of-bad-news clarinetist. There was nothing I could do but sit quietly, heartbroken and a little angry.
Why did this man do this to my son? Why did I put my son in a position to be rejected? But, wait, isn't failing how we learn to succeed?
By the time were sitting down to lunch, SchoolLess was himself again, tearless, chatting about other summer camp options, happy that he would now not miss any Martha's Vineyard vacation time. The initial blow absorbed, what remains are some essential lessons about expectations and mental preparation, a necessary reminder that hard work and perseverance, as much or more than skill and natural, ability rule the day.
New York City being the small town that it is, I ran into Dave at Everyman Espresso the following Saturday morning. We talked, for over an hour, about music and SchoolLess, of course, but also about Seattle, the women in our lives (his girlfriend, my wife), math, rain, coffee, and the Knicks. He told me that SchoolLess needs to practice more: not an hour a day but two (one day off a week, he reluctantly allowed), and half of that time devoted to scales, long tones, and the Breath Builder. SchoolLess gets the notes right, he said, but that's the easy part; it's getting the instrument, getting the sound, getting the music that's the challenge.
I do not want my kids to abstain from competition nor do I want them caught up in it. Can "the game" be played with ironic detachment? Is there an on-off switch? Just as circus animals can be taught to perform unnatural acts, children can be taught to master a standardized test: to get the notes right. But there's so much more to life, to achievement, to happiness. And yet our educational system intensifies rather than broadens its focus, as if in a steroidal rage. More and more curriculum is a wolf (test prep) dressed in sheep's (pedagogy's) clothing. That wolf is eating our little piggies (apologies for mixing barnyard metaphors) alive. We must build our schools out of bricks, not straw, not twigs, and we must, as well, be wary of trickery, institutional and otherwise.
We are jealous of Shanghai's test scores but ignore concerns about the detrimental effects of too much control and compliance, the stifled creativity and lack of innovation, the joyless childhoods and high rates of suicide.
And really, at the end of the day (as it is said), is a dog who jumps on the back of a trotting pony and catches a ball in its mouth while waving to the cotton-candy snarfing crowd a good, necessary, or desirable thing?
Once you start down that road—race to the top, race to nowhere, go, go, go!—it's nigh near impossible to reverse course. And is it ever too early to start this journey? Einstein used flash cards, didn't he? We have a friend who tutors three-year-olds for their preschool interviews!
A couple weeks ago, SchoolLess came home confused by his bandleader's riff on the necessity of arrogance. "Isn't arrogance a bad thing?" he asked. "Well," I said. "Yes, but, I think he wants you to play with arrogance, not to be arrogant." And this seems true for any competitive realm: sports, school, the marketplace, you name it.
I know so many parents, Skeptic and I among them, struggling these days to find balance in their lives, between work and play, family and self, needs and desires. In our efforts not to err in the same way our parents did with us, we inflict our very own "original" mistakes on our own kids. This is not a new story, this generational yo-yoing. They fuck you up, your mum and dad, always have and always will.
We all—kids, adults—have issues, issues that in the good (?) old days were often denied, obscured, buried. We are not any worse off now, just more consciously aware of and unwilling to accept our reality. We intend to raise resilient kids but we do everything we can to prevent the suffering that is necessary for building true resilience. Is it possible to be both optimistic and realistic? To fail and yet succeed? The current of conflicting imperatives tosses us to and fro, threatening always to pull us under.
I do not mock the birthday cards my kids make. I do not scorn their intonation and articulation when they play violin. I do not threaten them—well, not really, not relatively—when they do not do as I want them to do.
What, pray tell, will become of them?
It's easy to make fun of the idea that every kid is special in his or her own way but isn't yours? It may be true that Emerson's transcendental impulse has run amok, but we can pull back from that in moderation without abandoning completely the sense of spirit and possibility that made this country great.
Yes, the Chinese Mother was attentive, but too much of a good thing can be a bad thing. Selective benign neglect might be just the ticket.
Michelle Rhee says the Chinese Mother approach, which she embraces, is all about the marketplace and that may be true. This may be another Sputnik moment for America, but that does not necessarily make it one for your child or mine. Nor is the solution to that problem—"Getting Back to Number 1"—as clear as many seem to think.
I do have a touch of tiger in me, though my natural constitution is more akin to that of the underappreciated sloth. We do have the right to be lazy, but this does not mean we have to exercise that right indiscriminately, just as the right to free speech does not require, much evidence to the contrary, diarrhea of the mouth.
Laziness is underrated but so are other qualities, arrogance and anger, humility and creativity among them. The keys, I say this as if it's a can of corn but it most certainly is not, are balance, perspective, control.
I'll do things my way, you do things yours. There's more than one way to skin a cat (sorry, Abe). I will continue to call SmallerMan "moron" and SchoolLess "dumbass," but judiciously, when levity seems appropriate and productive—they know true tongue in cheek when they hear it. I will continue to believe that despite good intentions (see: the road to hell) our schools don't get either best means or desired ends. I will continue to honor the nap, the good night's sleep, conscious and unconscious dreams.
SchoolLess, his head in the clouds as it often is, seems to me well on his way, at least metaphorically, to the Moon or Mars or wherever he decides he wants to go.
[wpsr_sharethis]
 Comments  
Back To Top 
Home
EDUCATION, ETC. I.E.